Cold Truth, a vegan ice cream shop in Detroit, took a swipe at law enforcement recently when they posted on Instagram that they "will not serve anyone wearing body armor."
Notably, the creamery is located in a city marred by runaway crime. The Detroit News reported that Detroit is one of America's "most violent big cities." A Libs of TikTok post  noted that Detroit has the "second highest violent crime rate and the sixth highest murder rate in the country."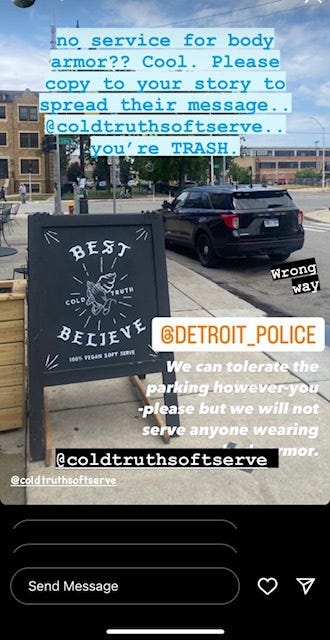 Cold Truth management received many complaints about their anti-police policy but remained defiant. Some wondered if the policy would be enforced should there be an emergency and customers or staff call police to the scene.
Despite the pushback from patrons, Cold Truth staff responded snarkily on Instagram: "Simple policy. If your job requires military-grade body armor, please come by for ice cream AFTER your shift."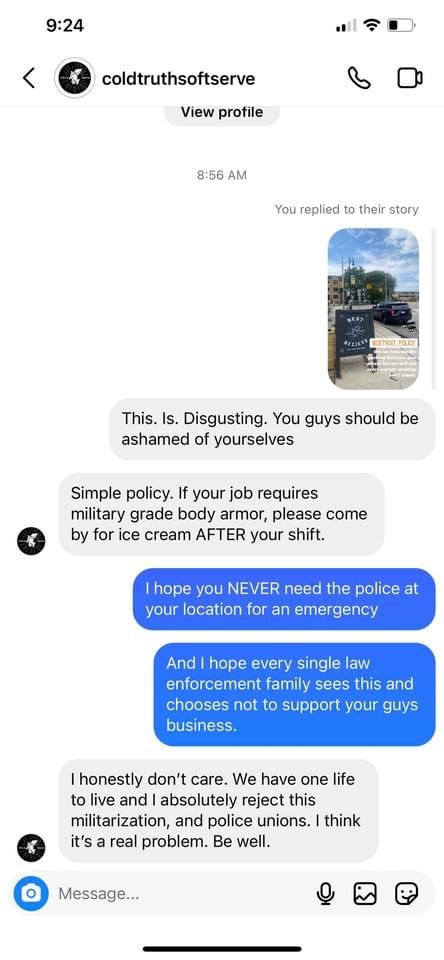 Pushback against the woke creamery policy is escalating — perturbed patrons have taken to social media to rebuke Cold Truth management.
Doubling down, the creamery posted: "Armor is not uniform; it's equipment … It produces an atmosphere that is pretty intimidating."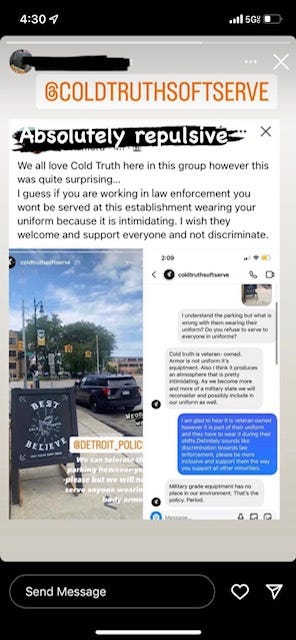 Somehow, the controversy about police presence and body armor has spilled over into the recent Supreme Court ruling overturning Roe v. Wade, the landmark ruling that legalized abortion. 
Noting the hypocrisy of those who ride the woke bandwagon, one patron wrote:
"While Cold Truth finds life-saving armor "intimidating," the ice cream shop has posted photos on its Instagram page in the wake of Roe v. Wade being overturned showing someone holding a sign that says 'MANDATORY VASECTOMIES NOW." Is that not intimidating?"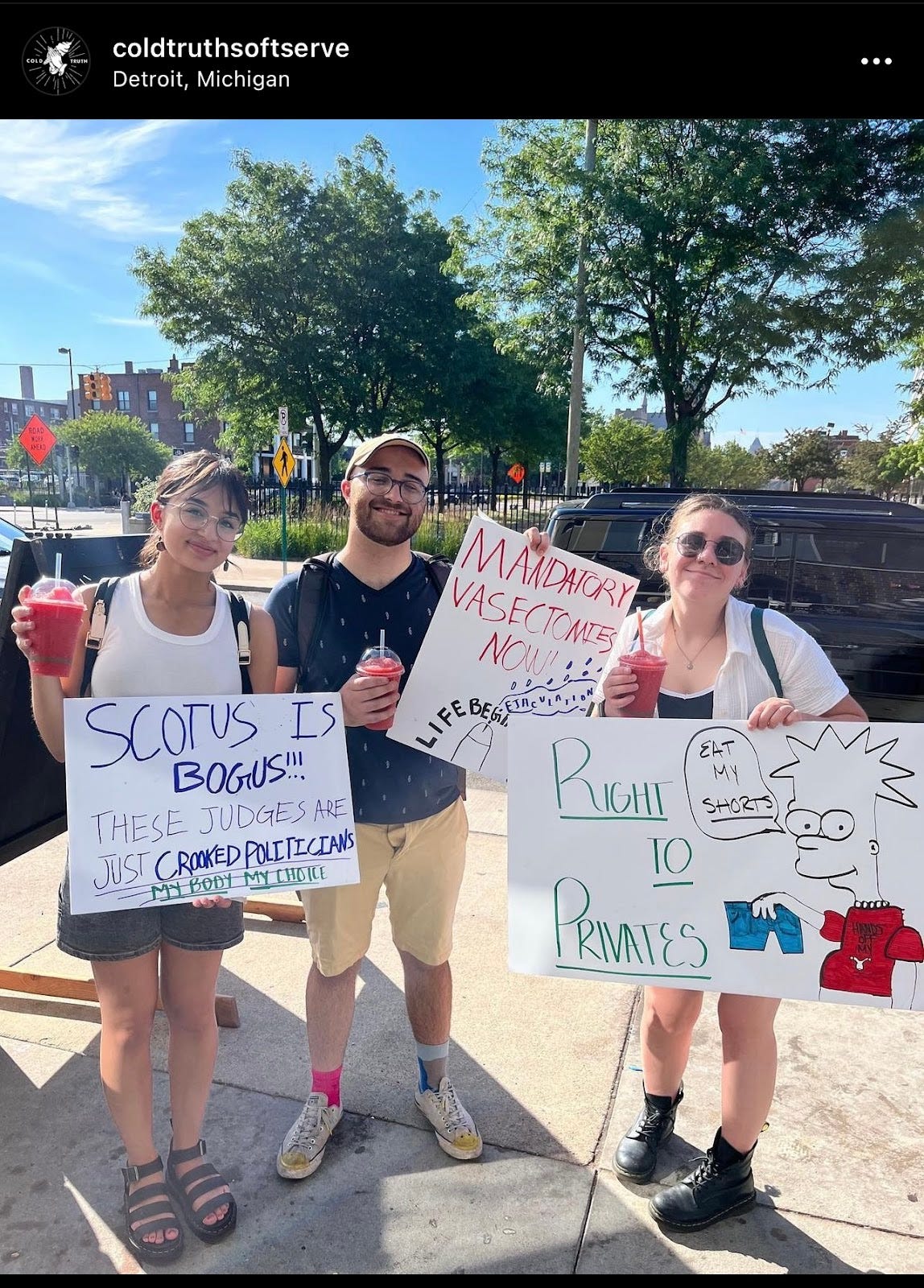 Detroit police officers also hit back. Officer Bryan Ede set up a stand and handed out free ice cream for four hours to police officers in full uniform, just down the street from Cold Truth. 
Sadly, to punctuate the need for body armor in the crime-filled city, a police officer was killed in the line of duty a few hours after Officer Ede handed out ice cream to officers.
Officer Ede posted his opinion soon after the shooting, writing: 
"Just spent four hours today giving out free ice cream to Detroit's finest, only to have a Detroit police officer killed in the line of duty moments ago. This is why we have to support our police. They do a job most can't or won't. Having worn that uniform, it is the most thankless job today."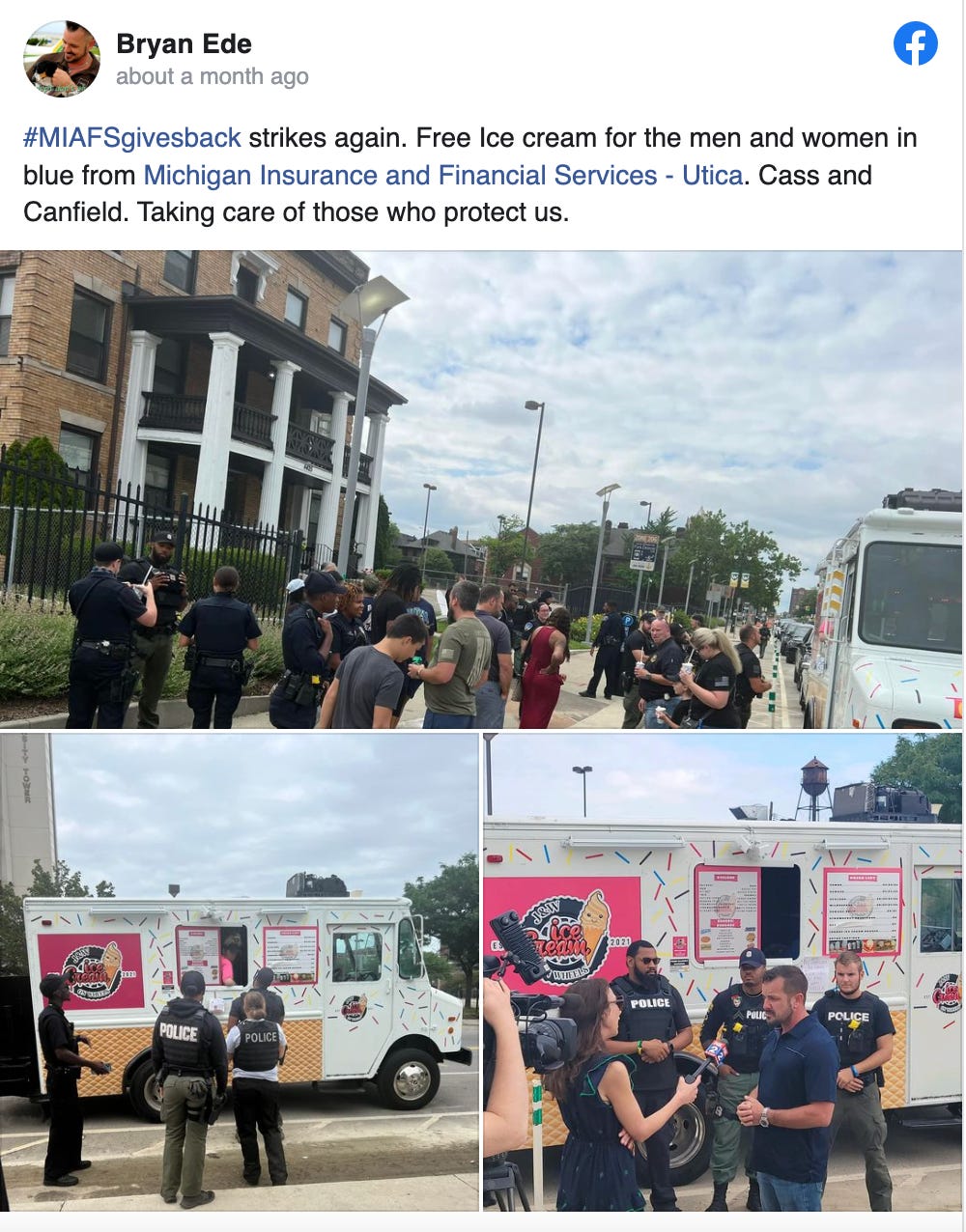 Scroll down to leave a comment and share your thoughts.