An entire floor of the Fox News New York headquarters had to be evacuated, and a host had to isolate himself in his office after a white powdery substance was sent to the building.
The incident happened on Friday at the News Corp. Building after the substance was discovered, WPIX reported.
The call came it at around 11:25 a.m., and the scene remained active as of Friday afternoon.
The building, at 1211 Sixth Avenue, houses — among other operations — FOX News and its studios.
Following an investigation, officials at FOX News Media said the substance was not deemed to be hazardous.
According to Mediate, Fox News released the following statement: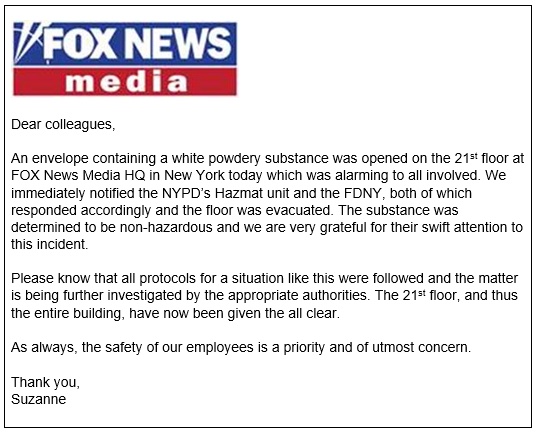 "An envelope containing a white powdery substance was opened at FOX News Media today," a spokesperson for FOX News said. "We immediately notified the NYPD's Hazmat unit and the FDNY, both of which responded accordingly and our offices were given an all clear after it was determined that the substance was non-hazardous. We are very grateful for their swift attention to this incident."
"Please know that all protocols for a situation like this were followed and the matter is being further investigated by the appropriate authorities. The 21st floor, and thus the entire building, have now been given the all clear," they said.
Days before this incident protesters gathered outside of the Fox News studios where they burned an American flag and pictures of Tucker Carlson.
"You're full of lies, you're all racists and Nazis you're Zionists, you're KKK, Proud Boys…" one of the protesters said.
This is an excerpt from Conservative Brief.
Scroll down to leave a comment and share your thoughts.