House Speaker Nancy Pelosi announced Sunday that the House of Representatives would move to impeach President Donald Trump again after some of his supporters stormed Capitol Hill last week.
"In protecting our Constitution and our Democracy, we will act with urgency, because this President represents an imminent threat to both," she wrote in a letter to Democrat colleagues in the House.
Pelosi said that the president represents an "ongoing assault on our democracy" that requires immediate action.
The House will first try to force Vice President Mike Pence and the Cabinet to remove Trump by invoking the 25th Amendment, according to Pelosi's letter.
"We are calling on the Vice President to respond within 24 hours," she said.
If legislation to execute that is blocked by Republicans, which is expected, there will be a full House vote on Tuesday, the letter said.
She said that the act to impeach the president again would require "great solemnity" going forward.
"Thank you for your patriotism," she wrote, concluding the letter, "Prayerfully, Nancy Pelosi."
Pelosi's ongoing delay would make it significantly more difficult for Democrats to impeach the president before he leaves office, demonstrating that the process will again be more of a political exercise.
Senate Majority Leader Mitch McConnell released a memo last week on what the Senate will do if the House of Representatives votes again to impeach Trump. He noted the earliest possible date that the Senate could begin the process would be January 19, one day before President-elect Joe Biden takes office.
The actual impeachment trial, McConnell explained, would theoretically begin after Trump's term is over.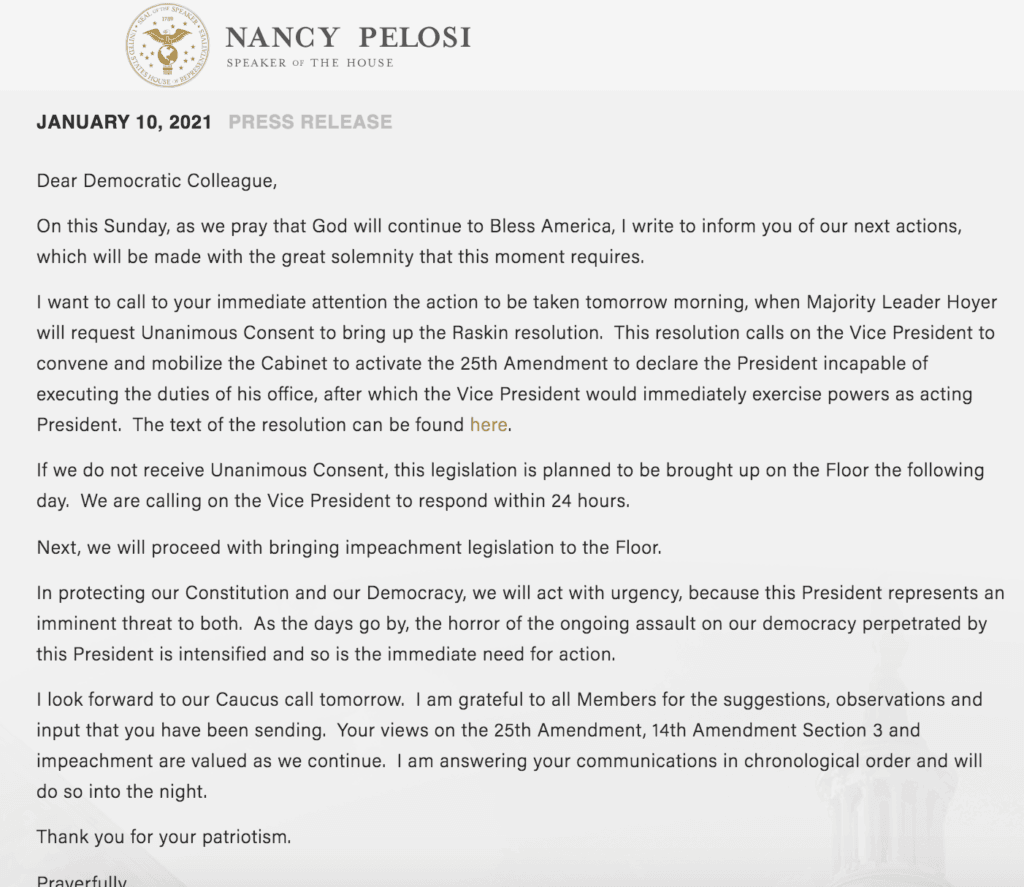 This is an excerpt from Breitbart.
Scroll down to leave a comment and share your thoughts.
Scroll down to leave a comment and share your thoughts.