This is an excerpt from ZeroHedge. For the full version, click here.
Emails from a former business associate of Hunter Biden's inner-circle who's serving time in prison for a 2016 investment scheme reveal that Hunter and his colleagues used their access to the Obama administration to peddle influence to potential Chinese clients and investors – including securing a private, off-the-books meeting with the former Vice President.
The emails, given to investigative journalist Peter Schweizer by former Biden associate Bevan Cooney and published by Breitbart also reveal that in 2011, the younger Biden and his business associates discussed strengthening relations with "China Inc." as part of a "new push on soft diplomacy for the Chinese."
As Breitbart notes, these emails are completely unconnected to the Hunter Biden emails released by the New York Post.
Cooney provided Schweizer with written authorization, his email account name, and password to his Gmail account to retrieve these emails. He authorized, in writing, the publication of these emails— notable because it is the first time a close associate has publicly confirmed Hunter's trading on his father's influence. -Breitbart
In a November 5, 2011 email, one of Archer's business contacts suggested helping to arrange White House meetings for a group of Chinese executives and government officials who would make "potentially outstanding new clients." The group, the China Entrepreneur Club (CEC) included CCP loyalists, Chinese billionaires and at least one "respected diplomat" from Beijing. According to the report, CEC – established in 2006, has been referred to as "a second foreign ministry" for China's communist regime. The gross income of CEC members is estimated to be equivalent to roughly 4% of China's GDP, according to the email.
And according to Breitbart, Hunter and Devon Archer apparently delivered for the communists.
On the day of the meeting, November 14, 2011, Cooney emailed Fears to confirm that Archer "got the Chinese guys all taken care of in DC."
Meanwhile, White House visitor logs reveal that the Chinese delegation of around 30 members did visit the White House on November 14, 2011. The logs, however, conceal that the delegation met with former VP Joe Biden himself.
Schweizer suggests that the meeting may have opened the door for Hunter and Devon Archer down the road – as just two years later they formed the Chinese government-funded Bohai Harvest RST (BHR) investment fund which saw Chinese money pour into it for investments in CEC-linked businesses. According to the report, " One of BHR's first major portfolio investments was a ride-sharing company like Uber called Didi Dache—now called Didi Chuxing Technology Co. That company is closely connected to Liu Chuanzhi, the chairman of the China Entrepreneur Club (CEC) and the founder of Legend Holdings—the parent company of Lenovo, one of the world's largest computer companies. Liu is a former Chinese Communist Party delegate and was a leader of the 2011 CEC delegation to the White House. His daughter was the President of Didi. "
The emails: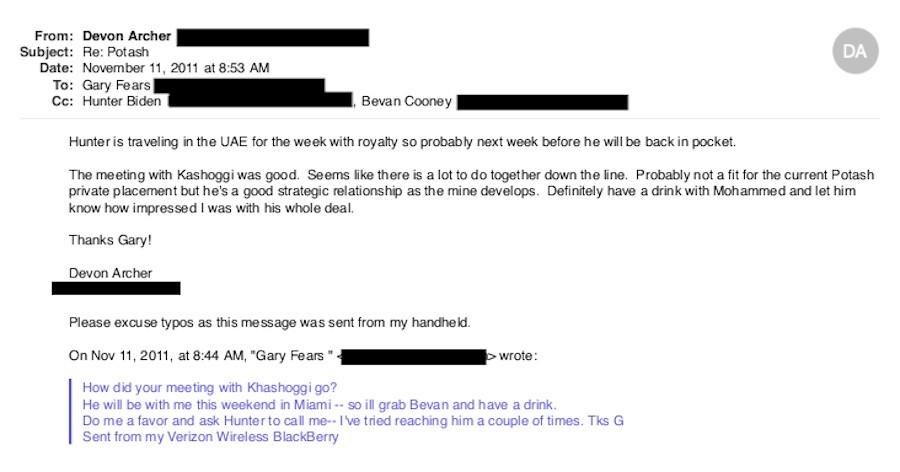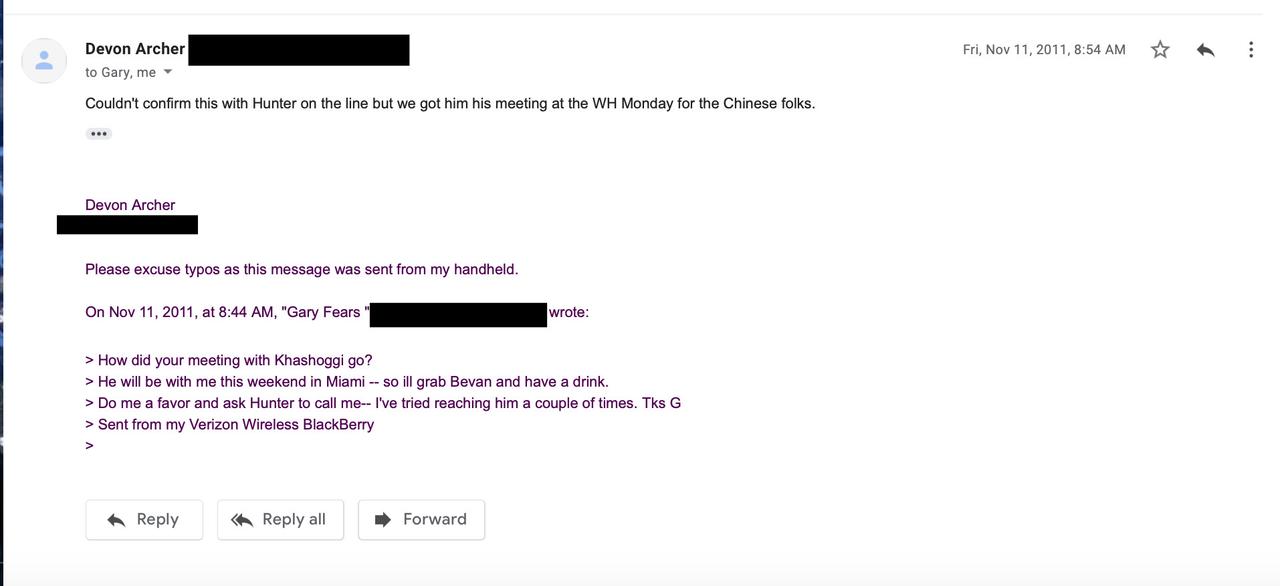 Scroll down to leave a comment and share your thoughts.
For DMCA takedown requests or copyright questions, feel free to email us at resistthemainstream@gmail.com