Some speculate that former President Donald Trump will seek to move the political spotlight off DeSantis, who announced his bid for president on Wednesday, by circulating rumors of a vice presidential pick. 
On the day that the Florida governor announced his candidacy, Richard Hanania, a noted political forecaster, suggested Trump would announce that Sen. Tim Scott of South Carolina would join Trump on the ticket.
Scott, a black conservative who has supported Trump over the years, announced his candidacy earlier this week. Polls do not project that Scott would do well in a national primary, leading some to suspect the move is a maneuver to position him for a key role in the next administration.
Partnering with a black man may stifle often-voiced claims from the left that Trump is a racist.
Hanania, the president of the Center for the Study of Partisanship and Ideology, tweeted: 
"Trump is going to be the nominee, and I predict he picks Tim Scott as his running mate. Everyone loves an inoffensive black conservative, especially swing voters. Democrats will have to walk on eggshells in critiquing him. Trump-Scott ticket will be very tough to beat."
Hanania added: "Many conservatives have a belief that 'Democrats are omnipotent and can do whatever they want, they create their own reality, and there's nothing anyone can do about it.' No, they sometimes get put in tough situations. Stop treating them like god."
Notably, following Scott's announcement to run for president, Trump was very congratulatory, writing on his Truth Social platform:
"Good luck to Senator Tim Scott in entering the Republican Presidential Primary Race," he wrote. "It is rapidly loading up with lots of people, and Tim is a big step up from Ron DeSanctimonious, who is totally unelectable. I got Opportunity Zones done with Tim, a big deal that has been highly successful. Good luck Tim!"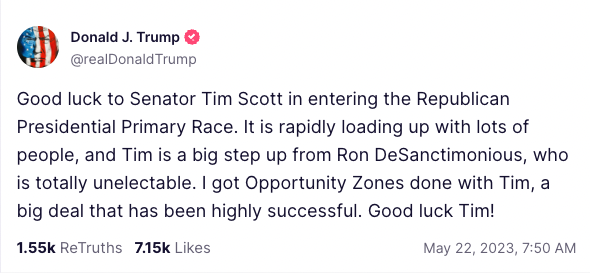 Other political pundits have suggested that Trump will select a female running mate. The 1945 website suggested the former president is likely to "stun the world" with his vice presidential pick and claimed the short list includes Georgia GOP Rep. Marjorie Taylor Greene, Arizona Republican Kari Lake and South Dakota GOP Gov. Kristi Noem.
Regarding Kari Lake, the 1945 report stated: 
Lake certainly looked ascendant last fall when she was competing for Arizona's governorship. She enjoyed Trump's endorsement, and she enjoyed favorable coverage in conservative media. It's not hard to understand why. 
Lake is a unique creature, spewing the hard right rhetoric that MAGA Nation finds so endearing while doing so with the glitz and polish of a seasoned TV reporter. She was delivering Trump's message – but she was doing so without the spray tan and the guttural accent and the lack of eloquence. Rather, Lake delivered Trump's message all pretty-like.
Regarding Greene, the report noted: 
Trump loves her, and she loves Trump. And impressively, MTG seems to be pivoting into a position of more mainstream acceptance with the GOP (as demonstrated through her support of Kevin McCarthy for speaker). 
The version of MTG that can appeal to both MAGA and the mainstream is a concerning premise, and someone that Trump has his eye on as a prospective running mate with appeal in the newly-in-play Georgia.
Regarding Noem, the report stated:
The governor of South Dakota is apparently on Trump's shortlist. Noem said she would be shocked if Trump chose her, and I think she means it; she is a long-shot pick. 
But she's got a few of the things Trump guns for. One, Noem has been loyal to Trump, vowing to support the former president through the 2024 campaign. And Trump values loyalty above seemingly all else.
The Daily Caller reported "the former president has indicated that 'a lot of people' are 'auditioning' behind the scenes" to be his vice president. 
Scroll down to leave a comment and share your thoughts.