House Republicans slammed Vice President Kamala Harris' failure to visit the southern border since being tapped to play a key role in the migrant crisis, putting her face on a milk carton to demonstrate that she has been missing.
House Minority Whip Rep. Steve Scalise, R-La., stressed the need for Harris to go to the border to observe for herself the consequences of the Biden administration's policies, such as the overcrowding of unaccompanied migrant children in federal facilities.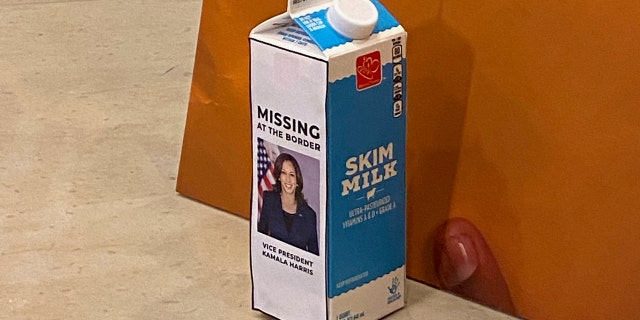 The milk carton features a picture of Harris with the text 'Missing at the border'
"If she's the vice president of the United States and the president put her in charge of this, Vice President Harris needs to go down to the border and see this for herself," Scalise said during a Wednesday news conference. "Because maybe she would then encourage President Biden to reverse his policies that have failed."
Harris announced Wednesday that she will visit Mexico and Guatemala. The vice president was asked Wednesday by reporters at a Northern Triangle security roundtable about whether she would visit the border itself and she did not answer. She told the press pool that her job is to focus on the root causes of the migration problem.
The Biden administration, in an effort to appear as though it has the ongoing immigration crisis in hand, announced Monday that it had inked a deal with Guatemala, Mexico, and Honduras to increase border security along all three countries' borders, effectively stifling the flow of migrants from Central America.
Now, though, Guatemala, one of the countries where many of the illegal immigrants captured at the United States-Mexico border originate, says it signed no such deal, and that any increase in border security is the result of actions taken earlier this year, without any agreement with or from the Biden administration.
Guatemala's government, though, said in a statement Tuesday that it did not negotiate or sign an agreement with the Biden administration and that it moved troops to its border months ago, in January.
This is an excerpt from Fox News.
Scroll down to leave a comment and share your thoughts.
Scroll down to leave a comment and share your thoughts.