Utah has officially changed its state flag.
After years of finding and even using different iterations, Gov. Spencer Cox signed a bill and an executive order Tuesday formalizing the change and designating the old flag as a "historic state flag."
The new "state flag" features a large yellow beehive — the state's symbol for "Industry," also its motto — at its center with red, white and blue running horizontally in the background. The white section in the center also makes pointed crests, reflective of the state's mountainous terrain.
"I believe that Utahns should take great pride in our state's history and never forget the sacrifices that have been made by our ancestors," said Gov. Cox, a Republican. "Our traditional Utah state flag has been a symbol of that faith, diligence and strength of the people of Utah since its adoption."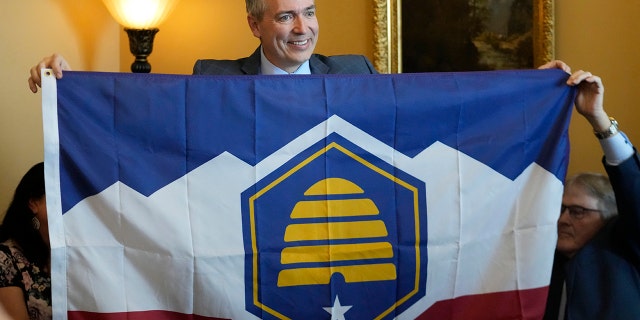 Senate Bill 31, which officially changed the flag, cleared the bicameral legislature earlier in the month.
The replaced flag was the state's original design that was made in 1903 by the Daughters of the American Revolution. It was officially adopted by the Utah State Legislature in 1911. The blue shade used in the new flag is the same as the original flag, giving a nod to its heritage.
Cox's executive order allows both flags to be flown in tandem at the state Capitol.
"As governor, I am proud to issue today an executive order requiring that the current state flag be flown at the Capitol at all times and at all state buildings on certain holidays and special occasions," the governor continued in a statement. "I am further requesting that, during an upcoming session, the Legislature amend SB 31 to require the historic state flag be flown above the new state flag when the two flags are flown together. This will ensure that the historic flag will remain a symbol of our history and strength."
Cox added: "I am grateful for the tens of thousands of Utahns who participated in designing and selecting this new flag. Just as we have much to be grateful for from our ancestors, I hope that today's Utahns will be worthy of the mantle that has been placed upon them to preserve and build Utah's legacy for our children, grandchildren, and generations to come."
Read the full story here.
Scroll down to leave a comment and share your thoughts.