First-time homeowners in Texas are in a massive fight to evict an alleged squatter, whom they believe to be a convicted fraudster who was thrown behind bars in Colorado for ripping off other landlords in 2018.
"I called the police. I called the DA. I called the chief of police. The assistant chief of police. The Justice Department and the courts, like if I could get a number, I called it," homeowner Jessica Davis told Fox News Digital of how she's been trying to evict a woman from her Dallas-area home.
Davis and her husband closed on their first home in December, Davis explained to Fox, and described an idyllic four-bedroom house complete with a pool in Rowlett, which is located about 20 miles outside of Dallas.
Davis, however, had to move to Florida about six months ago for her job, and didn't want to sell the home so soon after purchasing it. She and her husband worked to lease out the property, with Davis explaining "we wanted to hang on [to the house] for at least two years."
"So I put in an ad on Apartments.com and Zillow when Heather Schwab messages me," Davis explained. "I felt confident with Zillow because they have to use the Social Security number" when running background checks.
Davis said the hopeful renter's initial Zillow message about the property came in under the name "Heather Schwab," but the woman told Davis that she was using her friend's Zillow account and claimed her actual name was Rayes Ruybal.
Davis said everything appeared to be above board with Ruybal, who told Davis she was moving from Colorado to Texas with her 17-year-old son.
Davis said the woman and her son were staying at a hotel in the area, and asked if they could move in a few days early because a half-naked woman's body was found in a car near the hotel, and they wanted to leave the area. Davis, who is also a mom, said she felt for the woman and agreed to let her move in early as her housing payments were in the middle of processing.
"And then the payments started failing left and right," Davis told Fox News Digital, explaining that she has not received any money from the woman.
Davis and her husband were also unable to get into the home, citing how the garage door was dismantled and other entries locked.
Davis began investigating the name "Rayes Ruybal" on various background check sites, and could only find the name being associated with a 72-year-old man. She also investigated phone numbers she used to contact the woman, and stumbled upon how a woman named Heather Schwab was related to Rayes Ruybal. The homeowner claimed Ruybal is Schwab's father.
Davis then investigated the name Heather Schwab and discovered news links from 2018 reporting on her arrest and subsequent conviction on felony identity theft charges in connection to serial squatting in Adams County, Colorado. She and her husband William Schwab were accused of renting and living on properties but never paying landlords.
"I did their job for them," Davis said of local police, who she had hoped would have been helpful with tracking down the woman's identity and evicting her.
Schwab was sentenced to six years in prison in 2018 for pulling the scam on two landlords in Adams County, but was released in 2020 after serving only 16 months behind bars, CBS News reported. She and her husband used aliases during the previous squatting incidents, including "Jenkins," "Rayes" and "Ruybal," news reports from 2018 show.
Prosecutors dubbed Schwab a "serial squatter," while the judge who presided over her case in 2018 said her crimes were "appalling." She and her husband had allegedly previously pulled similar squatting tricks in north Texas, and were evicted at least 20 times in the Lone Star State before moving to Colorado, according to CBS.
Now, Davis says Schwab is back in Texas and allegedly using her old tactics. Davis added that she has had little help from local officials, with the Rowlett Police Department and Dallas PD punting her between offices and reportedly saying their hands are tied from doing anything because it's a "civil" matter. The City of Rowlett does not fall within the Dallas PD's jurisdiction.
The homeowner added that she told police how Schwab was allegedly using a false identity in order to lease the property, but was told she could not report identity fraud because Davis' identity had not been stolen.
A spokesperson for the Rowlett Police Department told Fox News Digital on Tuesday that an investigation has been opened into the matter.
"The Rowlett CID is currently in charge of this matter and is working closely with the District Attorney's office to address this case comprehensively. While the eviction process is primarily a civil procedure, the CID is actively looking into this case to assess whether any criminal charges may be warranted based on the specific details involved," the spokesperson said, noting the investigation is ongoing.
She began the eviction process earlier this year, including hiring a lawyer, filing a three-day eviction notice that went unanswered and then following up with a 30-day eviction notice on Sept. 5. The 30-day eviction notice means the woman and her teenaged son must vacate the property by Oct. 5, after which Davis is hoping police will arrest her.
"I'm hopeful that they arrest her," Davis said. "Shame on me… I should have taken more steps, but I was in the process of moving, too, and my husband was in the process of moving to an apartment in the area."
"We had a lot going on," she said.
She has meanwhile been left paying the bills, and told CBS News she fears she could lose the house to foreclosure and had moved in with family to help save money.
Davis said she has spent a copious amount of time researching squatters' rights in Texas and has taken care to contact any official who she believes could help remove the woman. Squatting laws vary from state to state and often take months to work through the legal system in order for a person to get evicted.
Davis said she only learned last week that she and her husband could have kicked the woman out without issue because she allegedly used her dad's name on the lease and not her own.
"We tried to do an inspection one time and she barricaded herself in the house," Davis said.
Davis also had the city turn off the water at the home earlier this year, before a person identified as "Heather Ruybal" filed an application for the water to be restored, CBS News reported. The city turned the water back on before shutting it off again when officials encountered issues with "Heather Ruybal's" application.
Davis' husband tried to confront the woman this summer by gaining access to the home through a storm door. He recorded portions of the scene, which were shared with Fox News Digital and showed the house scattered with cleaning products, home improvement tools and a ladder. The video shows her husband walking around the home and asking if anyone is there, before the camera panned near a closet, showing a woman they believe is Schwab peering out.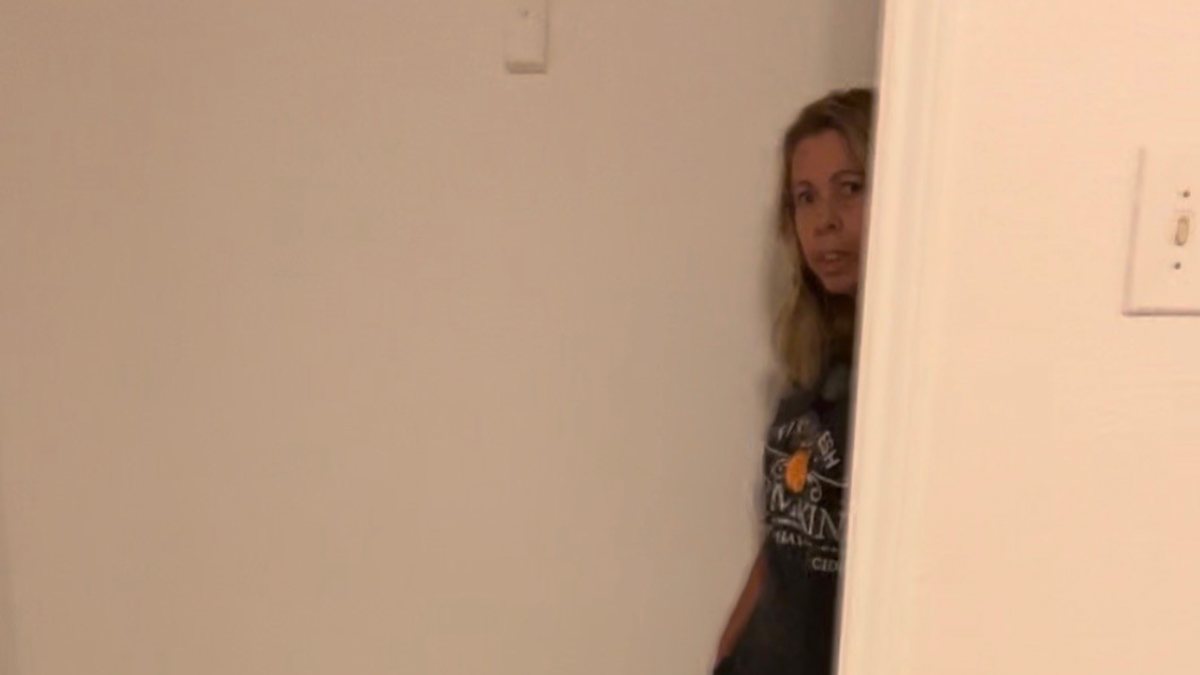 "You scared the s— out of me," the woman appears to say before the video ends.
The husband also confronted the woman's teenaged son, who has reportedly trashed the master bedroom's bathroom with beer cans, Davis recounted.
"​​Who the f— are you? Who the f— are you?" the son reportedly asked Davis' husband when he attempted to check on the house. "And he goes, 'I'm the owner. Who are you? I don't know who you are.'"
Davis said she and her family are only aware of Schwab and her teenaged son living in the home.
Davis said the woman and her son may have even already vacated the property, citing how blankets that were typically hanging in the windows as blinds are now gone.
For now, she is waiting for the 30-day eviction notice to run its course.
Read the full story here.
Scroll down to leave a comment and share your thoughts.