Rep. Paul Gosar (R-AZ) and Rep. Marjorie Taylor Greene (R-GA) join together to help fight for President Trump's America First agenda.
The two conservative figures created the America First Caucus which promises to "promote Congressional policies that are to the long term benefit of the American nation," according to their Policy Platform.
"The North Star of any policy proposal will be that which serves the American people, and any consequential analysis of policy platforms must be based on this first principle."
The Caucus appears to not be afraid of confrontation with the more establishment wing of their party: "a certain intellectual boldness is needed amongst members of the AFC to follow in President Trump's footsteps," boldly proclaims their platform. Members of the caucus must be unafraid to "potentially step on some toes and sacrifice sacred cows for the good of the American nation."
They promise to "work towards an end to mail-in voting, implementation of national voter ID and substantive investigations into mass voter fraud perpetrated during the 2020 election."
The AFC is also taking a swipe at Big Tech.
"Silicon Valley tech firms have become the most powerful arbiters of information in the history of mankind" the section began.
"The treasure trove of data they have collected from Americans have given them powers that would make a Soviet dictator blush. We have seen these powers weaponized and deployed against conservatives in recent years, even as Big Tech firms continue to allow terrorists and pedophiles to organize and publish on their platforms." The AFC calls for a solution that "starts with reform of Section 230 of the Communications Decency Act."
Most notable, and most controversial to those on the left, is their section on immigration.
The AFC honors America's unique Anglo-Saxon heritage, decries mass immigration as threats to societal trust, political unity, and the economic status of native-born Americans, summarizes the overwhelming negatives that have come with unprecedented immigration post-1965, and calls for an end to illegal immigration and extreme curtailing of legal immigration.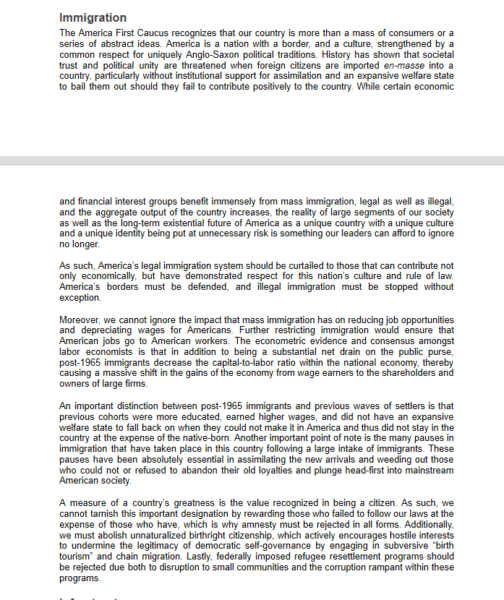 The AFC calls for an end to foreign wars.
"American tax dollars should not go toward teaching gender studies in Pakistan or supporting ideologically subversive non-governmental organizations (NGOs). Taxpayer money should be spent at home," their policy proposal reads.
With regards to wars, the AFC calls for America to stop wasting blood and lives in order to serve as the "world's policeman" and "globalist watchdog."
With regards to the Coronavirus lockdowns and stimulus, the AFC takes a strong, populist message: "It is essential to discontinue the lockdowns, remove capacity restrictions and allow businesses to continue operations. Now that the damage is done, many Americans are in need of assistance to pay their bills: the government should thus effectively provide direct financial support to improve the livelihood of Americans," stated the AFC, in a clear break from the fiscal hawks of the establishment GOP.
This is an excerpt from The National File. 
Scroll down to leave a comment and share your thoughts.
Scroll down to leave a comment and share your thoughts.